Most professional athletes have done humanitarian work at some stage in their career. Their efforts have been largely successful, but it's important to remember that this is just the work of one person, who already lives a busy life. There is a limit to the extent of a single athlete's humanitarian abilities.
But what if you combine some of the greatest sports personalities in the world to form a solitary not-for-profit organization? How much more effective can the efforts of a group be over the work of an individual? As is often the case, there is strength in numbers, which is why
Athletes for Hope
has been so successful. Andre Agassi emphasizes this point in the video below.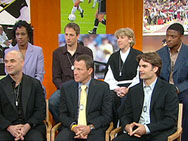 Athletes for Hope (AFH) is a non-profit organization based in the United States, founded by a group 12 elite athletes who are all incredibly committed to humanitarianism and philanthropy through sport. This elite group of humanitarians includes
Andre Agassi
(men's tennis),
Muhammad Ali
(boxing),
Lance Armstrong
(cycling),
Warrick Dunn
(football),
Jeff Gordon
(auto racing),
Mia Hamm
(soccer),
Tony Hawk
(skateboarding),
Andrea Jaeger
(women's tennis),
Jackie Joyner-Kersee
(track & field),
Mario Lemieux
(hockey),
Alonzo Mourning
(basketball) and
Cal Ripken Jr
(baseball). What is so remarkable about this group is that these 12 individuals represent 12 different sports, an incredible showing of collaboration among these athletes, who don't have much more in common than a passion for humanitarianism. In addition to being co-founders of AFH, each of the 12 athletes has their own personal charitable foundation as well.
AFH recognizes that charities around the world often do not have the financial resources to have a celebrity spokesperson or famous face for their organization (which makes me realize how lucky I have been at the Fergie Jenkins Foundation). Subsequently, the primary initiative of Athletes for Hope is to match a charity with a philanthropic athlete, using that individual's prestige to develop programs that further the organization's missions. A list of recent "matches" can be found
here
. While AFH has but 12 founding members, there are now
hundreds
of professional athletes that have partnered with this organization in charitable efforts. This is truly sports humanitarianism at its finest.